News & Events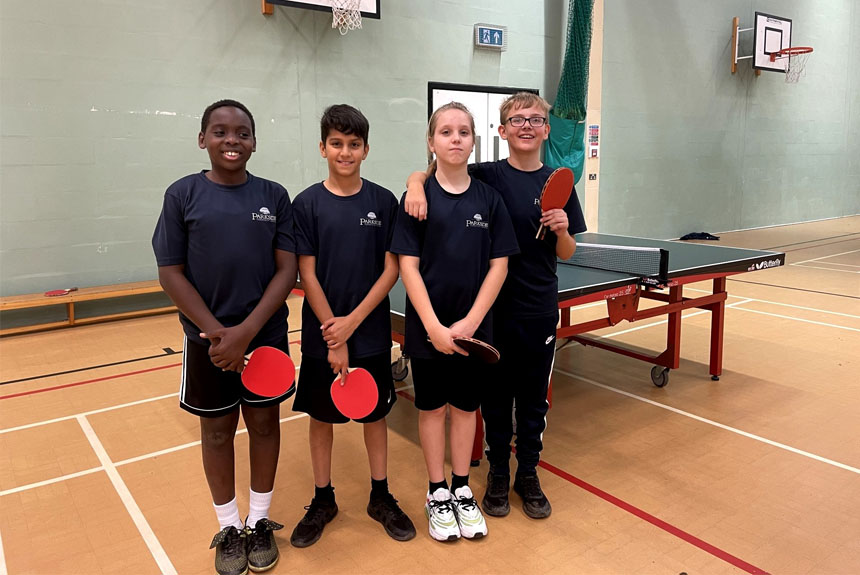 Parkside proudly put out its very first table tennis team in a tournament for Chesterfield and North East Derbyshire schools, held at Springwell Community College. Parkside's Islam, Yeni, Alex and Ethan (all Year 8) were seeded 1-4 and played corresponding players from the other schools.
The match format was that the winner of each game was the player that could accrue the most points in 5 minutes. This led to fast and furious games, but the levels of composure remained high.
Some really competitive games for all 4 boys saw Parkside win a couple of rounds early doors. Following an hour of table tennis against different opponents from other schools, Parkside finished joint 2nd with Springwell. As both schools are Chesterfield schools, the teams were to play in two final rounds to decide the Chesterfield Schools winner.
The first round saw some tough matches, with one finishing 21-19 to Parkside. After round 1, the scores were level at 2-2. The second round, with additional pressure and added fatigue, saw 4 more vigorous games. Springwell made a couple of un-returnable shots, and won 2 of the 4 games by just 3 points. With one match a 13-13 tie on the whistle, all eyes were on Yeni as the game entered sudden-death, meaning the player that won the next point would be crowned the winner. Yeni played three fanatic shots and in a bid to seal the game he upped the pressure on his opponent. A swift return saw Yeni's shot hit the white tape of the net and drop agonisingly back on to his side of the table. The whistle went and the final score was 5-3 to Springwell.
I am incredibly proud of the 4 boys who stepped up to the challenge, represented Parkside and committed to practicing through their break times in readiness for the tournament. They should also be recognised for their fantastic attitude at the tournament. Congratulations to them all, and we look forward to the next challenge.
Mr Gould